Trade shows are big budget, high energy affairs which – when done correctly – bring the leading lights of an industry together in one venue. We love them and celebrate the opportunity they represent to educate, inform, transform and promote.
However, even the largest exhibitions only lasts for a handful of days before the visitors go home and the stands are stripped down.
What if there was a way to keep the magic of your exhibition alive year round? Allowing exhibitors to host unique, content rich spaces; visitors to engage with the latest industry developments as they happen; and you to provide networking and lead generation opportunities in between the main event…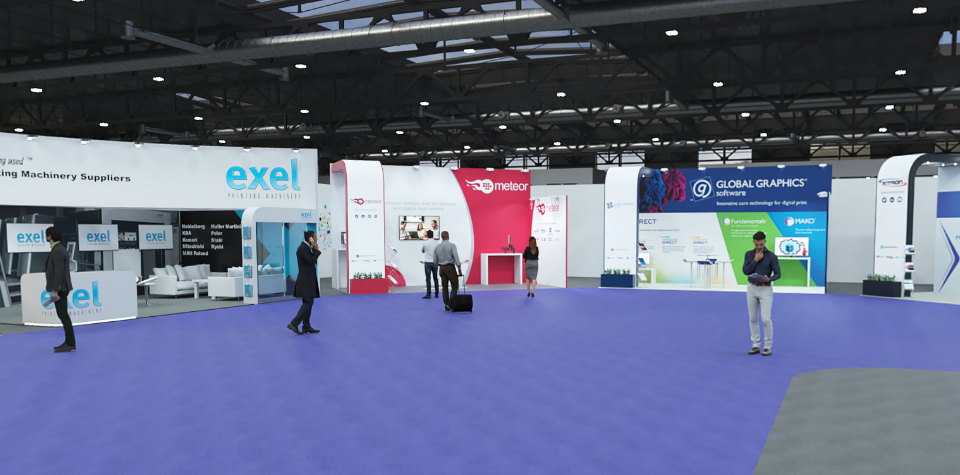 The V-Ex Platform was originally designed to allow exhibition organisers and stand owners to 'bridge the gap' between live exhibitions. Our platform allows exhibitions to expand into the virtual world; offering exhibitors the chance to engage with a global audience, 365 days a year.
We can build stands to a Gold, Silver, Bronze template design or offer custom designs for key event sponsors – this ensures that all your exhibitors are able to present their information in a relevant style that's representative of their brand values. Exhibition stands can be updated throughout the year to keep the show current so visitors keep on coming back.
Our visitor registration solution means that you can monitor traffic and keep your exhibitors engaged with powerful analytics and even verified sales leads that they can access from their own account login.
Working with our marketing and communications team you can keep your virtual exhibition relevant with regular updates and live seminars hosted from the venue year-round.
About Event Technology Live London '22 Digital Twin 
The Digital Twin of ETL London '22 was built by V-Ex to provide easy access to a global audience of people who can't attend the physical show held at ExCeL London in November. Most event organisers can expect at most 10% of their total addressable audience to agree to attend a physical exhibition – and only half of those registrations to attend the event. Building a perfect Digital Twin of an exhibition opens-up the remaining 95% of the audience again – with a wonderfully interactive 24/7 experience that provides the look, feel and content of the live event. The live conference panels, discussions, talks and presentations recorded at the physical shows are all now accessible 24/7 from anywhere in the world.
About the V-EC Virtual Exhibition Centre
The V-EC Virtual Exhibition Centre is currently the only online virtual exhibition ground in the world today, providing virtual exhibition space for trade shows, conferences and events that are built using the V-Ex Virtual Exhibition platform. Every element of the environment is modelled on the same dimensions as real life, making it easy to create content such as exhibition stands, and easy for users to enjoy an intuitive visitor experience using visual navigation. It is online and open 365 days a year, there are no downloads and will work on all modern browsers. As a constantly evolving site there are several live events available to access at any one time that are free to register and enter. There also demo areas that are open to the public, so please go ahead and take a look around.
Printing Expo is currently the world's largest 3D virtual exhibition. It is owned and operated by a team of people who gained their experience from organising traditional exhibitions and various roles across the print industry. Printing Expo offers an easy to use 3D visual browsing experience on a cloud-based delivery platform where the technology is ahead of the game. Like all V-Ex platform venues and environments the exhibition and all the booths are designed on a 'real world' scale, which brings truly 'real' feeling online 3D experience. A large number of the industries leading brands have a big presence at the show and enjoy a huge number of visitors.
About Industry Expo Show 2022
The Industry Expo Virtual Exhibition was the first large-scale virtual exhibition to be launched and in its latest 2022 iteration offers a fantastic range of virtual exhibition stands from the world of industry, engineering and automation. It is like a physical event, that you can visit from your tablet or PC at any time. As a visitor to the new 2022 show (the team's third year!) visitors are able to explore a wide range of exhibitors' virtual stands and access a wealth of content including videos, technical documents and literature. You can navigate around the hall using the direction arrows and click on the stands you see in the hall, use the live map or select the brand you want to see from the live exhibitors list.
The Vet Exhibition was originally built for a market leading veterinary webinar company in order to deliver a stunningly real online venue to host exhibitions, webinars and conferences during the Covid19 lockdown period. It is based on a V-Ex digital shopping mall venue which offers the ultimate, high-tech 3D viewing experience. Including a learning, networking and exhibition environment. The venue is presented now as an example of a virtual venue with a strong professional industry sector theme and a clear purpose. Several companies that took part in events held at the venue now operate their own brand specific venues built on the V-Ex platform.