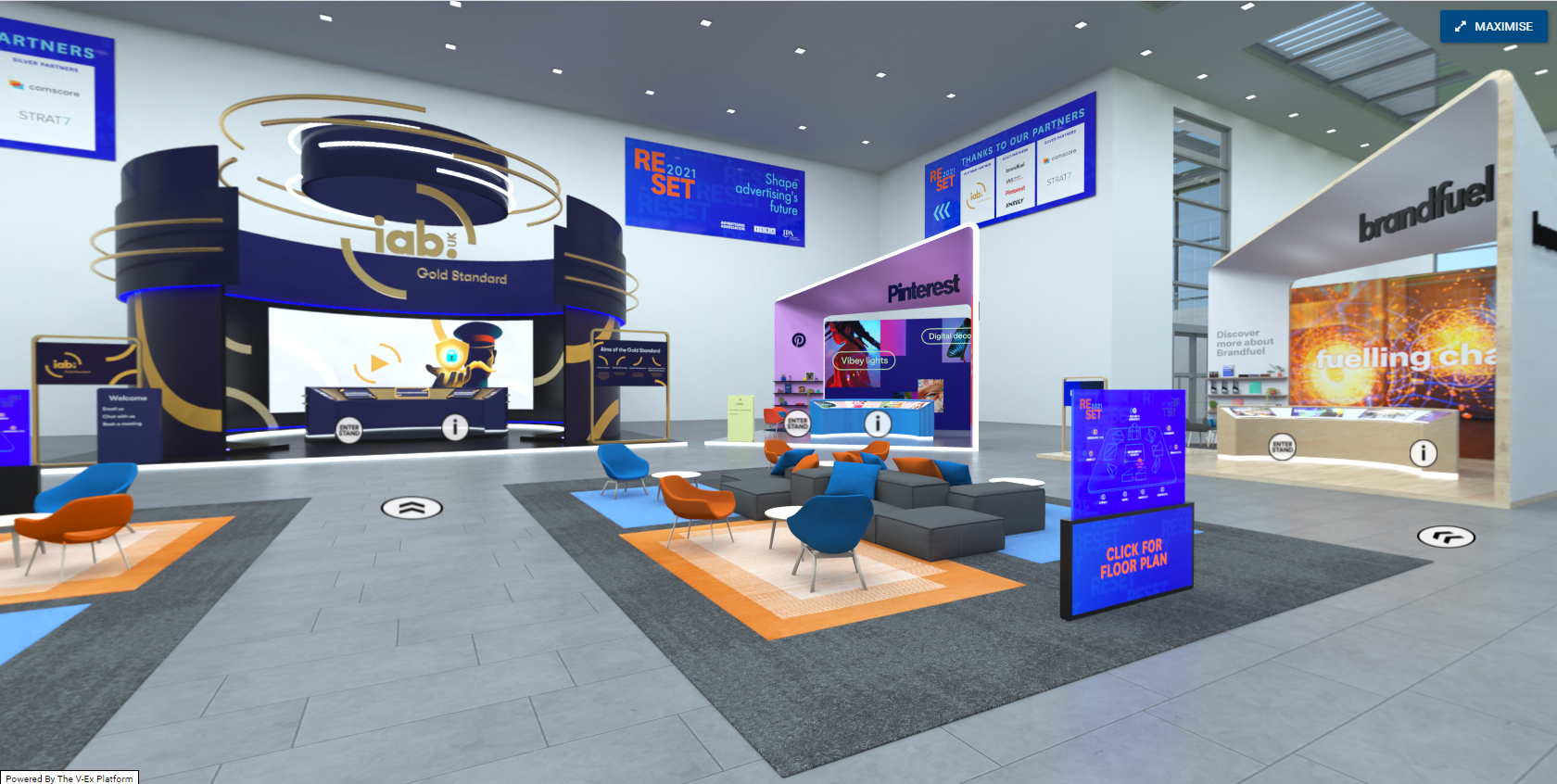 With consumer behaviour having changed due to Covid, the advertisement industry has had to adapt, prioritising digital advertising. The same is true of industry events, with the V-Ex platform enabling Brandfuel to deliver an online conference with a virtual exhibition – demonstrating how to respond to the repercussions of Covid-19.
In January 2021, at the beginning of a critical year for UK advertising, we worked with Brandfuel to create the RESET 2021 Advertising Association venue to host the interactive networking lounge and high-profile exhibition stands for big names in the advertising world. The main 4-hour plenary event had over 700 delegates attend, with the networking lounge open to be accessed for a month afterwards.
Brandfuel's mission for RESET 2021 was to create a fully interactive virtual sponsor hall and conference that would attract and inform delegates and encourage them to network and linger. From the start, working with the V-Ex platform, the creative agency was able to design, develop and build a bespoke solution tailored to RESET's needs and those of its nine individual sponsors.
The overall event was highly successful and Brandfuel commented on how effectively V-Ex became an extension of their own team, working closely together to deliver an exceptional 3D environment full of interesting content.
Cait Alborn, one of our Senior Project Managers, said "It was great to work closely with a leading events agency such as Brandfuel to deliver such an important event. The finished venue looked so realistic, and each stand was really immersive and engaging."
The V-Ex platform has been chosen by a large number of global events companies and organisers all making the pivot to delivering virtual and hybrid events.
To find out more, watch the movie: https://youtu.be/nabmqpOge6U